About Young Plants Holland
We have more than 35 years of experience in producing plug plants for the nursery sector. Which we deliver to a loyal customer base in the Netherlands and abroad. Our own developed production process allows us to deliver quality and enables us to sell only our own produced cuttings. We are the reliable address for your rooted cuttings.
Quality Production
Young Plants Holland has 2,5 hectares of greenhouse and 2 hectares of its own mother plants for cutting production. These mother plants are planted in anti-root cloth to ensure they are kept free of weeds. The mother plants are replanted for greater vitality. These processes help us guarantee the authenticity of the varieties and maintain quality.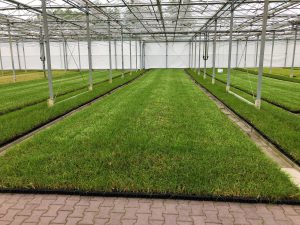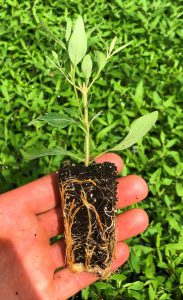 Additional Production processes
Deciduous shrubs such as Spiraea and Potentilla are wintered in cold store. From the cold store, our rooted plug plants will be delivered without leaves giving a number of advantages. Being grown in the cold means our young plants are hardy to the elements of a cold climate, such as night frost, drying winds and strong sunshine. The effect of the cold ensures especially strong growth when potted, giving your nursery a head start. This is in addition to an outdoor tray field where we can harden off our leafy cuttings so that they are already acclimatised when your delivery arrives. 
We always use open ground grown plants for the production of ornamental grasses. Our own ornamental grass plug plants are planted in the Netherlands under contract. When these cuttings have grown into full-grown plants, they are returned. We use these open ground grown plants to mother cuttings. Using our own plants in this way helps us maintain quality and authenticity of the varieties we grow and sell.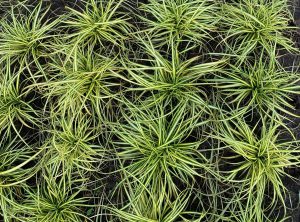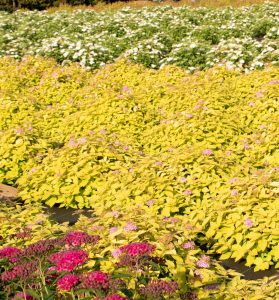 Relaible
We deliver to an international client base to a large loyal. Our company structure and reliability have helped us build and maintain a long-term business relationship with large and loyal customer base. Our nursery rooted plug plants are produced by a team that works with care, allowing us to ensure quality plugs, reliable delivery and keep to our deadlines.
Innovative
We strive to innovate with continuous improvement of both our products and business processes. The development and realisation gives life to customer-specific solutions do that our customers always receive a high-quality product and service.
Check our wide product range
Young Plants Holland offers a wide range of shrubs and ornamental grasses. Curious about our wide product range?

Quality Checked
We only sell our own home grown plug plants. Our self developed production process allows us to ensure we supply quality plants to you.

Reliable
We deliver to an international client base. Always striving for reliability to help us build and maintain long-term business relationships.

Product range
A wide range with more than 300 differtent varieties of shrubs and ornamental grasses plugs all grow at our own nursery.

Innovation
We are continuously working to improve our products and business processes. Often this results in customer-specific solutions to strengthen and streamline our offer